ibis

budget

Augsburg City
A tour worth taking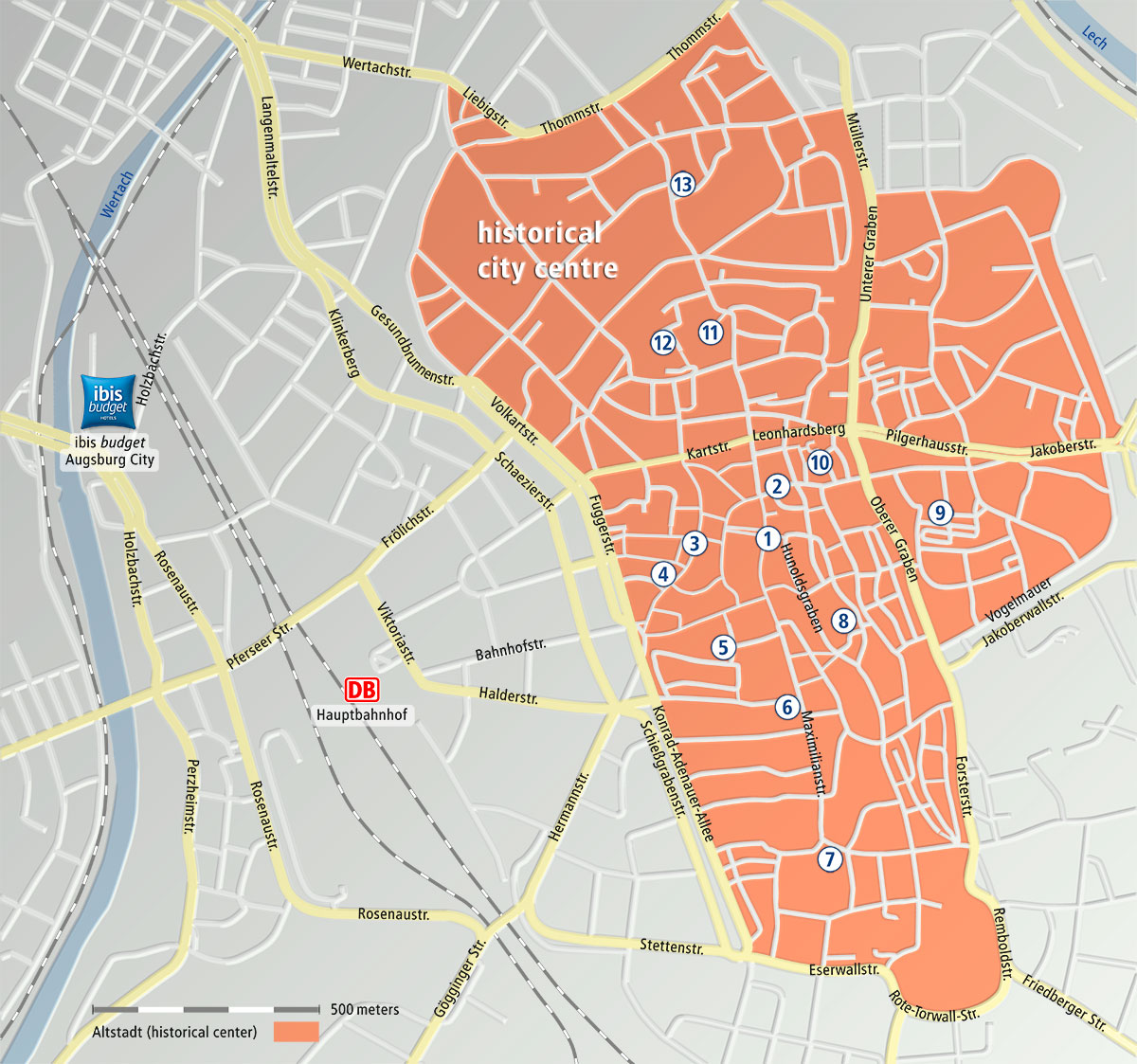 Founded by the Romans over 2000 years ago, Augsburg is one of the three oldest cities in Germany along with Trier and Kempten. The good news for visitors is that many exceptional sights have been preserved and some have been lavishly restored. The majority of these are located in the old town and can be easily reached on foot. Through the middle of this runs Maximilianstraße. The magnificent buildings from the Gothic, Renaissance, Rococo and Neoclassical periods turn the street into a tale of the city's history told in stone. Equally inviting for strollers and pleasure-seekers are the numerous shops, pubs, bars and restaurants between the Rathaus and Ulrichsplatz.
Starting at the Rathaus, you can see buildings of interest along a historic route. Numbers 1 to 13 have pop-up information pages on each of the sights.
Further details can be found at: Fremdenverkehrsamt Augsburg (Augsburg Tourist Information Office) Fremdenverkehrsamt Augsburg
Am Rathausplatz
86150 Augsburg
Telefon 0821–502070
Telefax 0821–5020745
E-Mail tourismus@regio-augsburg.de
Internet www.augsburg.de
(1) Rathaus
Vom Constructed by town master mason Elias Holl in 1615-1620, this is the most significant Renaissance secular building north of the Alps. Burnt down in 1944 following an air raid and restored in 1985, the Gold Room (Goldene Saal) with its magnificent portals, coffered ceiling and mural paintings are splendiferous with ancient lustre, as are the Prince's rooms surrounding it.

(2) Perlachturm
Beside the Rathaus, the city's second major landmark greets visitors from afar. Its imposing height of 70 meters offers a breathtaking vista – even for those who have reached the top in the annual "Turmlauf" (Tower Run).
Photo: Dark Avenger

(3) Maximilianmuseum
Sculptures, objets d'art and evidence of the city's history are displayed in over 30 rooms. Showpieces of the collection include the artwork of Augsburg's gold- and silversmiths.

(4) Kirche St. Anna
The monastery church of Carmelite monks was Germany's first Renaissance building. Martin Luther stayed here in 1518 before he had to justify himself to Cardinal Cajetan because of his theses.
Photo: JD

(5) Zeughaus
Once an arsenal, this building constructed in 1607 by Elias Holl still catches the eye today with its grandiose façade. A schedule of exhibitions regularly takes place inside the unmissable Tuscan portico.
Photo: Karlheinz Meyer

(6) Schaezlerpalais
Located in a prominent position on Maximilianstraße, this Rococo showpiece with a 23 m ballroom, carved decorations, stucco doors, mirrored walls and painted ceilings is today part of the state-owned museums and art collections in Augsburg (Staatlichen Augsburger Museen und Kunstsammlungen).

(7) St. Ulrich und Afra
The Basilica of St. Ulrich and Afra is one of the last great church buildings in Swabia. The tower cupola with its characteristic onion dome became a model for baroque churches in Bavaria.
Photo: Emkaer

(8) Theater Augsburg
Formally opened in 1877 with Beethoven's Fidelio, this neo-renaissance building suffered heavy bomb damage and was restored in 1952. Today you can once again enjoy plays, dance and musical performances here.

(9) Fuggerei
Consisting of 67 houses and 140 apartments, the Fuggerei is the oldest social settlement in the world. Still inhabited today, the district was founded in 1521 by the wealthy Jakob Fugger for needy catholic residents of Augsburg. Part of the Fugger Museum here is an original 'show house' of the time.
Photo: Wolfgang B. Kleiner/context medien und verlag Augsburg

(10) Brechthaus
The birthplace of Bertolt Brecht is today a prominent literary museum devoted to Brecht's life, thoughts and works.
Photo: Peter Bubenik

(11) Augsburger Dom
Must-sees are the Roman and Gothic frescoes, painted arches and four panel paintings by Hans Holbein the Elder. The Prophet Windows depicting Jonas, Daniel, Hosea and Moses are some of the oldest figured glass paintings in Germany. The original bronze door contains scenes from the Old Testament.

(12) Bischöfliche Residenz
This beautiful baroque building situated close to the cathedral has been the seat of the Swabian Regional Government since 1817. Open to the public are the Fronhof, used occasionally for concerts, and the idyllic Hofgarten.
Photo: Alois Wüst

(13) Mozarthaus
After Salzburg and Vienna, Augsburg also claims the status of 'Mozartstadt'. The world famous composer's family used to live here. Wolfgang Amadeus gave a number of concerts in his father's hometown. Today the Mozarthaus is both a memorial and a site for lectures and concerts.